let's connect YOUR OFFICE PBX WITH BITRIX24 CRM
fast communication with the subscriber without unnecessary additional software
telephony will work even in case of integration failure
quick installation and integration setup
variety of call handling scenarios
HOW DOES INTEGRATION WORK?
Bitrix24 receives commands directly from Asterisk. It works without additional connectors and special software, which frees you from restrictions and possible instability, gives a profit in connection establishment time of about 3-5 seconds. 
As soon as a call comes in to Asterisk, a card is opened in Bitrix24. Portal calls (via Click to Call) send requests to Asterisk and Asterisk calls the client number. All calls are registered in Bitrix24. At the same time, telephony will continue to work, even if Asterisk loses connection with Bitrix24.
more than 9 
call processing scenarios
The integration allows configuring the following scenarios:
if a call comes from an unknown number, the system creates a Lead and assigns it to a default responsible person -
this way no call gets lost;
if a responsible employee does not pick up, the call is forwarded along the route or to the employee's mobile phone;
all missed calls are registered in CRM and assigned for a default responsible person, while the existing Contacts and Leads get tasks according to set templates;
after the conversation, in a Lead, Contact or Company, there are an event with information about the call (type, duration, operator's name) and a conversation record that can be listened to at the same CRM page;
the operator initiates a call by clicking on a number in CRM (Click to Call) or by typing it manually in the Bitrix24 dialer interface;
one can order a call back from the site with Bitrix24 widget;
at the end of the conversation, the subscriber can assess the quality of the operator's work, while the assessment is recorded in CRM;
a unique Lead Source is set for each phone number, which may be referred to as statistical call tracking.
HOW TO START? 
ACTION PLAN: 
STEP 1. Install the application to your Bitrix24
STEP 2. configure the necessary settings for network equipment, according to the requirements
STEP 3. Install the module for FreePBX
STEP 4. Configure the module for connection with Bitrix24.
NEED HELP
STEP 5. Make changes to the current dialplans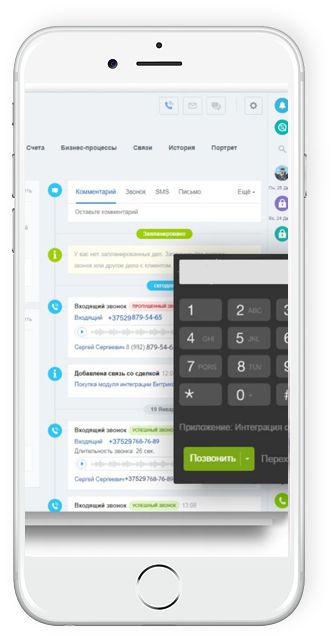 Asterisk bpx + bitrix24
Integration module

plans
Order a consultation with a specialist and find out the cost of implementing telephony in your company!
asterisk pbx + bitrix24
INTEGRATION SETUP from scratch
Don't have time or opportunity to tweak the settings yourself?
Entrust the whole process of telephony connection to us!
We set up not only telephony, but also the portal itself,
we conduct training for your employees
We work with projects of various sizes and will always find the best solution for you
Gold Partner Bitrix24
Recommended Hosting Partner Bitrix24
Technical support
is always ready
to help
WANT TO INTEGRATE pbx system?
Send us a request and we will contact you within a working day.