Bitrix24 case study
invoice processing
The story of the maximum automation of the processing invoices: from registration to reporting and transfering to the archive
Problem
Not optimized process of maintaining and processing incoming and outgoing invoices
solution tools
Creation of a special application for Bitrix24
INPUT DATA:
Every company works with invoices. In order not to bury yourself in a heap of payment documents, it is important to organize the processing of invoices correctly - smoothly, quickly, simply and automatically.
Client's field of activity: Marketing and advertising services, digital-marketing services.
Pain: 
1. Long process of documents approval by several persons
2. The distribution of incoming and outgoing invoices is not debugged (those that the company receives and those that it issues)
3. It is difficult to track at what stage of approval the invoice is
4. Complicated and suboptimal process of payment invoices issued to the company
5. Inconsistency in processing steps, confusion between employees
6. There is no single register of invoices

SOLUTION:
Modernization of Bitrix24 functionality - creation of the "Invoice Processing" application
bitrix24 case study
Incoming invoice processing
Adding a document
Documents are automatically loaded into the application from mail, a special folder on Bitrix24.Disk, and can also be loaded manually from the user's computer directly into the application.
Invoice Processing
In total, there are 8 stages of invoice processing and, accordingly, 8 of its statuses (the number of stages may vary depending on requirements).
Additional functionality for convenience
All documents can be downloaded, segmented using a filter; you can also display only columns with the information you want to see, print the document, look it through in a preview, track the history of changes, add comments, save in a draft, etc.
bitrix24 case study
outgoing invoice processing
SIMPLICITY AND CONVENIENCE IN DETAILS
Company invoicing takes place in another tab. Here the employee can add a new invoice, fill in all the fields (to whom, in what time period, for what amount, product, with what taxes and in what quantity, etc.). Such an invoice is also checked and confirmed with the CEO or head of the department, and after billing and payment, it is archived, like the incoming document.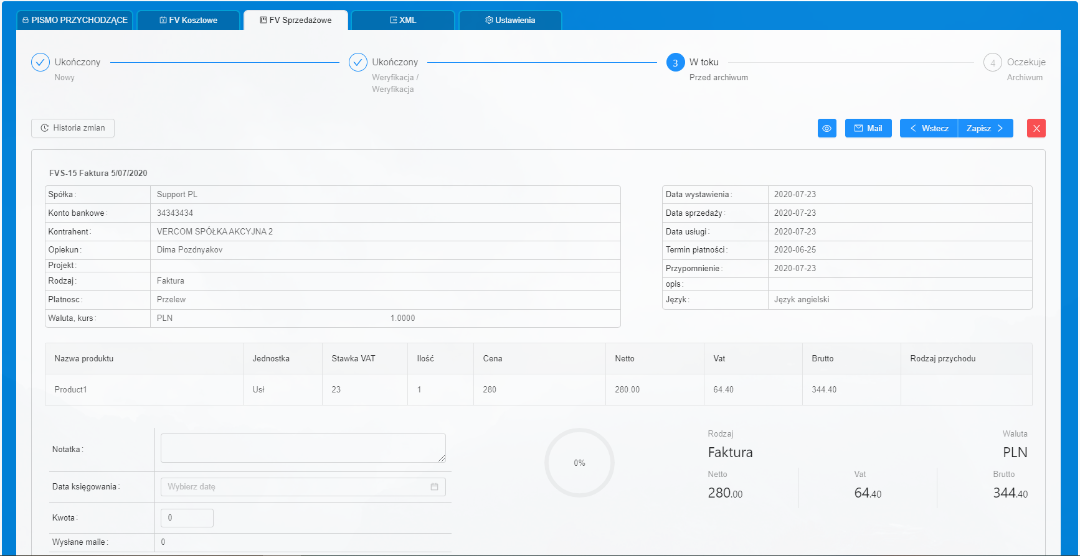 Filling in invoice fields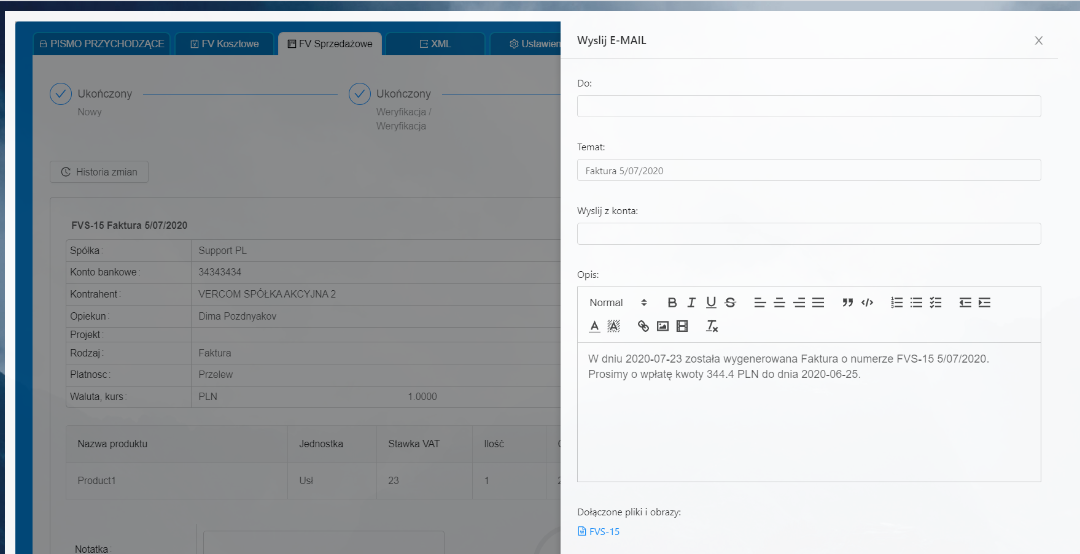 Sending e-mail with invoice
from the interface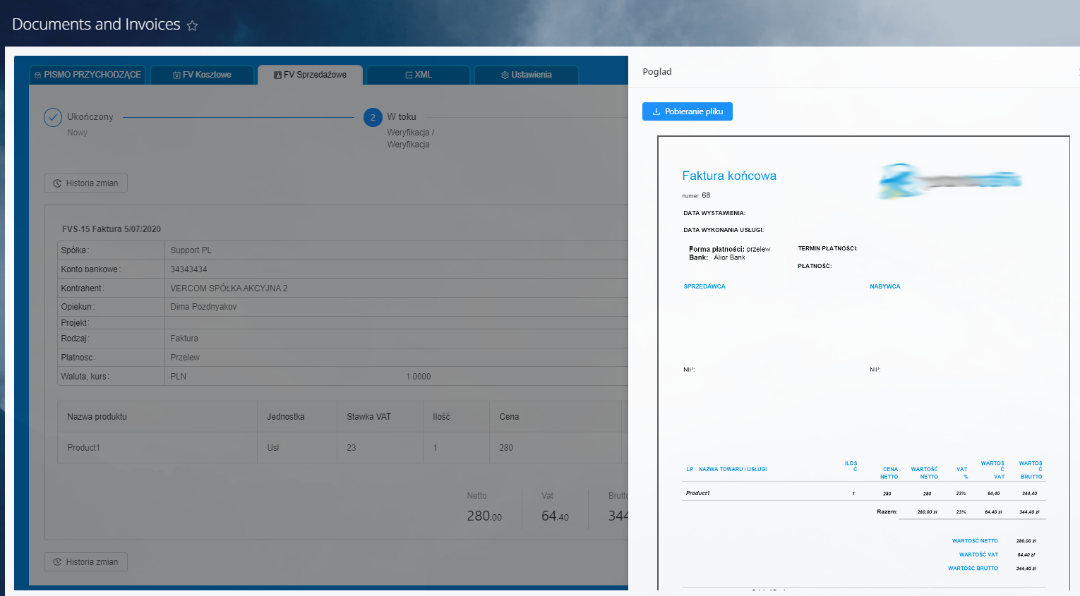 Totally in the functionality of processes with outgoing invoices:
Invoicing directly from the app in a user-friendly interface
Notifications for employees and clients to pay invoices
Approval the invoices with the manager / accountant
Quick sending of a e-mail with an invoice to the client, convenient document preview
Instant or manual marking of payment receipt
FOR BOTH PROCESSES 
 You can also create reports on documents: you just need to choose
which columns and data should be present in it.
You can save the report template as needed so that you can get it faster next time.

AS A RESULT, THE CLIENT RECEIVED A COMPLETE SYSTEM
FOR PROCESSING invoiceS WITH A FUNCTIONAL:
Detailed description of invoices with their distribution to different Cost Centers, cost types, projects and companies
Recognition of requisites from the invoice and their entry in special fields using neural networks
Export of invoice reports to third-party
accounting systems
(Optima for Poland)
Splitting the payment amount in several stages, distribution of invoice parts for various expenditure items
Manual and automatic (from a network drive or from emails) registration incoming documents
2 directions of document processing: incoming invoices and invoices issued by the company
Wide search in all fields describing the document
Appointment of persons responsible for processing, invoice confirmation with the accounting / financial department
Distribution of incoming invoices among several legal entities
Automatic appointment of a person responsible for processing a document based on his affiliation with the company
Adding document metrics (short description on the last sheet)
Quick document preview at any stage
Combining documents into one file
Assigning special labels (tags)
Document commenting and change history
More client's stories and case study